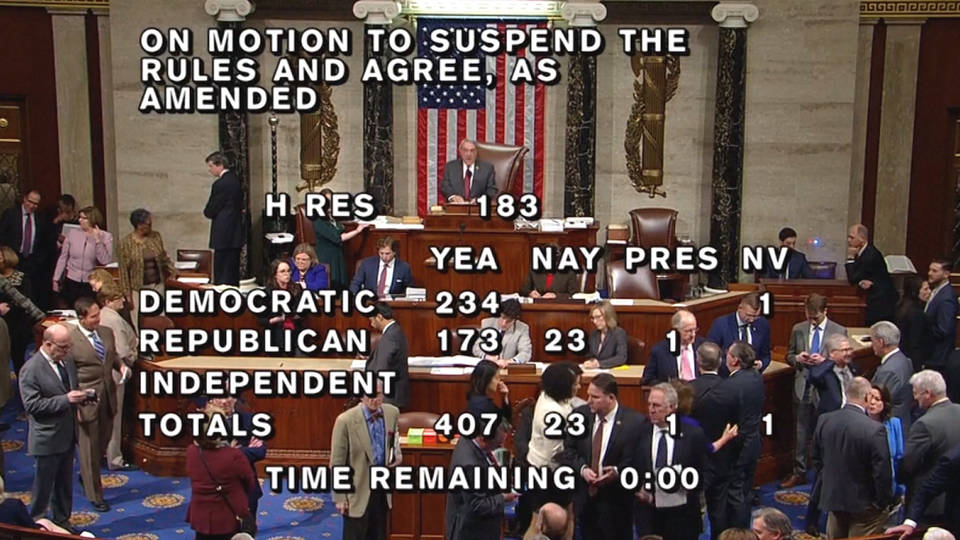 "I probably don't agree with her a lot about what she feels about Israel and Palestine, but I don't know why this has to be seen as anti-Semitic", Maher said at the time.
Speaking to reporters in the grounds of the White House, the President said: "I thought yesterday's vote by the House was disgraceful, because it's become - the Democrats have become an anti-Israel party". The resolution passed 407-to-23 on Thursday, with Omar lauding its smooth sail. "We are proud of the strong and unanimous position taken by House Democrats to condemn anti-Semitism and hatred in all its forms, and note that it was Republicans who were divided in their vote", her statement concluded.
But following internal Democratic disputes, the motion was broadened out to include all forms of bigotry, including Islamophobia and discrimination against other minorities. "The whole episode from the perspective of the Democrats was an absolute disgrace, and they have become a party that is now enabling and abiding by anti-Semitism, and that is extremely unsafe". "The Democrats have become an anti-Israel party and anti-Jewish party".
The action had come after controversial comments by Democratic Congresswoman Ilhan Omar. "Our nation is having a hard conversation".
Of course, Nancy Pelosi was appropriately, but unconvincingly, shocked by the comment, while at the same time defending and criticizing Ms. Omar as a bumbling fool for not being able to predict the hurt her remarks would cause other people.
"Because Trump has a 50-year history of not just comments but of policies that are out-and-out racist".
"I want to talk about the political influence in this country that says it is OK for people to push for allegiance to a foreign country", she told a Washington audience, before tweeting that she should not have to "have allegiance/pledge support to a foreign country" in order to serve in Congress. The Anti-Defamation League said it was "pleased the House of Representatives took a firm stance against anti-Semitism, including making an explicit statement rejecting the pernicious myth of dual loyalty and other vile slurs that have been used to persecute Jews for centuries".
As president, Trump sparked a firestorm by saying there were "very fine people on both sides" at a 2017 white nationalist rally in Charlottesville, where demonstrators chanted "Jews will not replace us". "I apparently am giving Rep. Omar more credit than the speaker is because I don't believe she is naive".