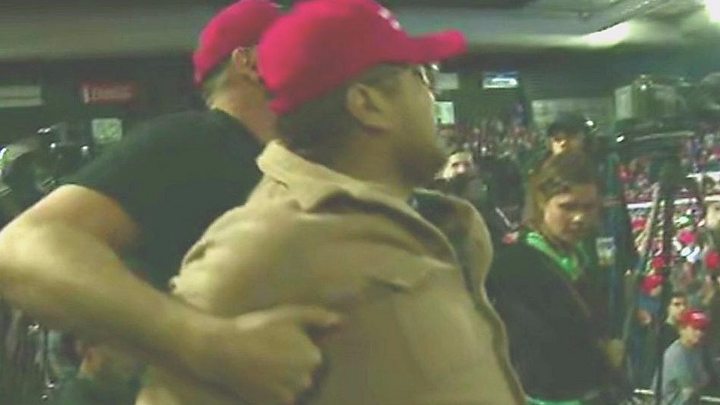 The BBC has requested a White House review of security arrangements at Donald Trump rallies following an incident in El Paso last night in which a BBC camera operator was shoved hard enough to capture the president's attention from the stage.
"The White House Correspondents' Association condemns the physical attack on our colleague at the president's rally in El Paso, Texas", WHCA president Olivier Knox said in a statement posted to Twitter.
Skeans was unhurt and the man, who was wearing a "Make America Great Again" hat, was restrained by a blogger for the pro-Trump outlet Frontline America and removed from the media riser. He then returned to his speech, which was littered with media bashing as is a tradition for his rallies.
Footage of the incident shows a man pulled away and escorted out of the arena by security after roughly shoving cameraman Ron Skean, while screaming "Fuck the media". Fortunately, our cameraman is fine.
Video from Skeans's camera showed it fall toward the ground.
U.S. President Donald Trump talks to reporters during a meeting of his cabinet in the Cabinet Room, at the White House, on February 12.
During Monday night's rally in El Paso, the President encouraged support for his proposed border wall with Mexico to protect the United States against a "tremendous onslaught" of migrant caravans, violent criminals and drugs.
CNN meanwhile filmed supporters of Mr Trump yelling abuse and swearing at reporters covering a rally in Florida previous year. An official with the president's campaign suggested the man in the video was drunk, according to the BBC.
Trump also stopped to ask the cameraman if he was okay.
"This is the shameful moment when my cameraman Ron Skeans was attacked by @realdDonaldTrump supporter in El Paso", tweeted Gary O'Donoghue, "after the President repeatedly goaded the crowd over supposed media bias".
Ms Montague said the protester had attacked other news crews but Mr Skeans "got the brunt of it".
He has also threatened to revoke NBC's broadcast license amid attacks on fake news - a decision that his FCC chairman rejected. "It's important that the president at some point, sooner rather than later, goes on television - not just tweets but goes on television - and says that reporters and journalists are not enemies of the people".