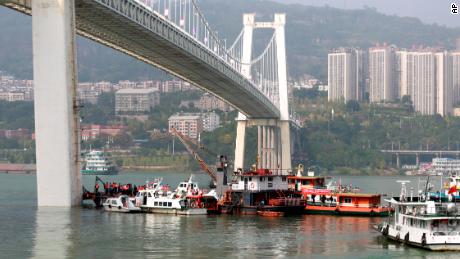 A bus plunged off a bridge in China, killing at least 13 people on board after a passenger appeared to attack the driver, video released to Chinese media shows.
The authorities said they reached their conclusion after studying more than 2,300 hours of surveillance recordings, 220 dashcam video clips, and interviewed the drivers and passengers of 160 vehicles around the site before and after the incident.
Due to the loss of control of the bus, which was travelling on a bridge in China, the bus swerved widely and hit a auto before crashing through the bridge railing and plunging around 160 feet (that's just just 20 feet shorter than the recently-inaugurated Statue of Unity, by the way) into the river. Police have recovered 13 bodies, and two people remain missing.
When the driver refused, the two began shouting and using "aggressive language", police said on their Weibo account - China's equivalent of Twitter.
According to the China Daily, a female passenger named Liu had missed her stop and asked the driver to stop immediately.
All those onboard are presumed dead.
When she struck him again, he abruptly turned the steering wheel left, swerving into oncoming traffic before crashing into the railings on the side of a bridge - screaming can be heard as the video stops. This seems to be the moment the driver realised he had lost control of his vehicle. It doesn't look as if the driver had time even to hit the brakes before the bus went off the bridge.
Rescuers lifted the wreck of the bus from the river Wednesday night. The driver, with one hand on the wheel, hits back.
Four passengers, who got off earlier, confirmed that a medium-height woman had quarrelled with the driver because she missed her stop, local police said.