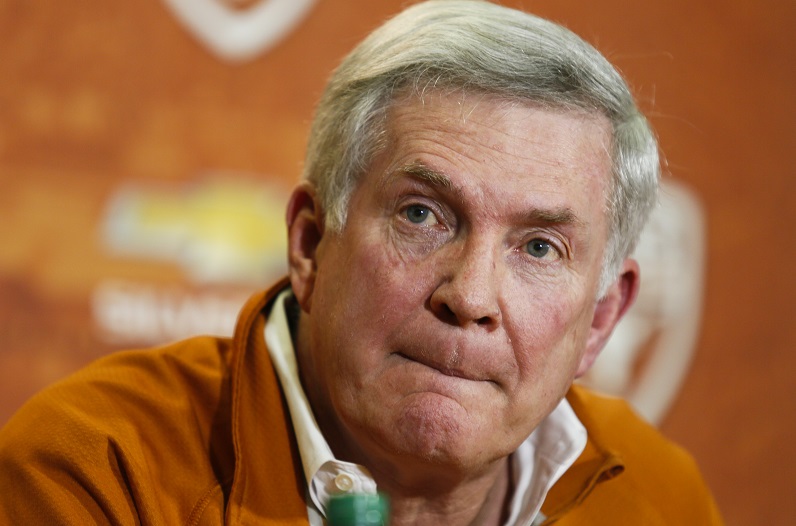 Brown compiled a record of 69-46-1 during his first stint as North Carolina's head coach from 1987-97.
Update (Nov. 26, 8:48 p.m.): Mack Brown has reportedly agreed to terms to become North Carolina's new head football coach, per ESPN.
Brown has spent the past five years as a college football analyst for ESPN but in recent years had expressed an interest in returning to the sideline.
North Carolina has hired Mack Brown to lead its football program, the school announced in a press release on Tuesday.
Following five years away from coaching, the longtime Longhorn coach will return to North Carolina to coach the Tar Heels.
The Austin American-Statesman reported that he would be interested in assembling a staff that would include former Auburn head coach Gene Chizik as his defensive coordinator and recently fired Texas Tech head coach Kliff Kingsbury as his offensive coordinator. According to IC, he's now in the process of assembling a staff.
He had his biggest success with the Longhorns, winning the national championship in 2005 with Vince Young as his quarterback.
Brown parted ways with Texas following the 2013 season after the Longhorns failed to reach 10 wins in each of his final four seasons.
Considering he has been spotted frequently in Chapel Hill over the course of this season, it's safe to say the UNC job fulfills that requirement. That year, UNC lost a bowl game for the third consecutive year, dropping the Sun Bowl 25-23 against Stanford. UNC was 1-7 in Atlantic Coast Conference play both years. Brown seemed to be content in retirement after a very long coaching career that ended after the 2013 campaign with Texas football.
UNC Head Coach Mack Brown (left) and College Football Television Commentator Kirk Herbstreit pose in front of picturesque Kenan Stadium, home of the Tar Heels since 1927.
Since he left Texas, Brown has entered into broadcasting and is now a college football analyst for ESPN.