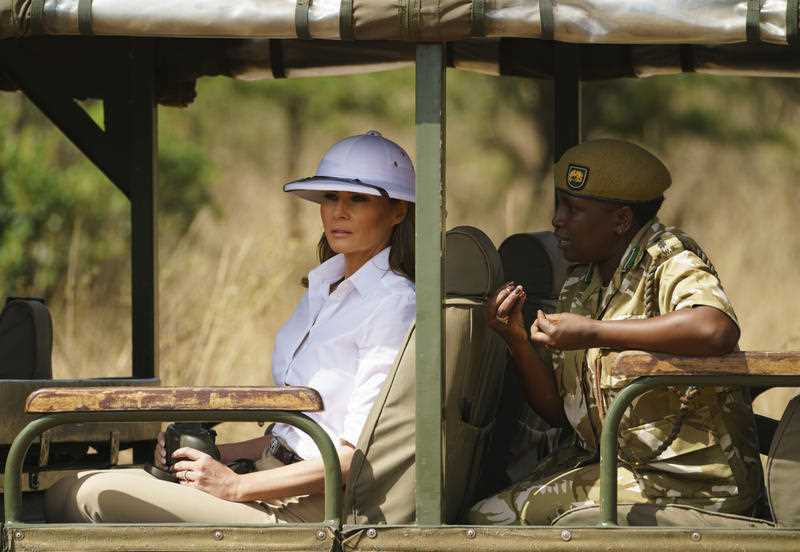 She was welcomed by Egyptian First Lady Intissar Amer al-Sisi, an observant Muslim who wore an ankle-length blue dress and matching headscarf. Earlier in the day, she opened her visit to Kenya by feeding baby elephants and going on a safari at Nairobi National Park.
During her visit to Kenya, she was also shown a pile of ash of ivory that was seized and burnt in the country recently.
Trump's outfits have also struck a chord with voters, who have mostly praised her colorful choices.
The first lady visited Ghana, Malawi and Kenya before landing in Egypt, where she will wrap up her trip.
It was not the first time her clothing choices have sparked controversy. However, one of the elephants made a sudden move as Trump walked toward it, causing her to briefly lose her footing. "I don't always agree with what he says and I tell him that", she said.
She once wore a pair of Manolo Blahnik stiletto heels to tour a Puerto Rican disaster zone and the unforgettable Zara jacket that read "I REALLY DON'T CARE, DO U?" while visiting children at detention centres. That being said, it seems like she is sick and exhausted of people worrying about her wardrobe. Several on social media alleged that Trump and her husband are out of touch with modern Africa and only know the region through various stereotypes.
Back home, Washington was in turmoil, but the first lady had something on her mind. Asked about the #MeToo movement and the Supreme Court nominee Brett Kavanaugh, she delivered what appeared to be a rehearsed response: She said she was glad both he and his accuser - a woman whose account Donald Trump publicly mocked - had been heard.
New York Times journalist Katie Rogers posted that Melania said that she tells Donald Trump when she dislikes what he's written. "Her husband campaigned successfully under the fascist slogan "America First, ' and has since implemented his "Muslim ban" and encouraged the detention of migrants, including separating children from their parents and keeping them in 'tender age" cages". Then, in Malawi, the first lady visited a primary school that has been struggling with high enrollment and donated 1.4 million books, school supplies, and soccer balls.
One Twitter user suggested Melania has drawn more attention to what she "doesn't do" than what she does.